Certified Electrician & Electrical Contractor in Hackensack, NJ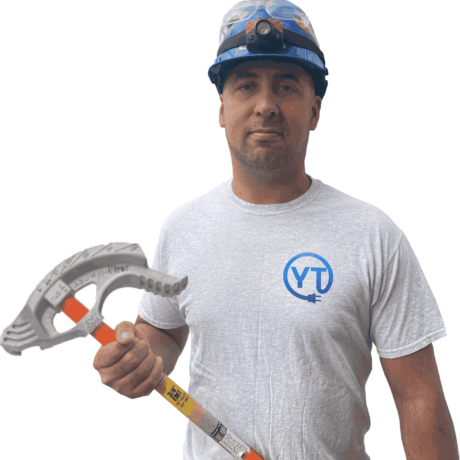 Speak to a certified electrician for a quote now
Or fill out the form below.
Note: We assure to keep your info safe.
EXPERT ELECTRICAL SERVICES IN HACKENSACK, NJ
YOUR TRUSTED LICENSED ELECTRICIAN
When it comes to electrical services in Hackensack, NJ, you need a licensed electrician who can provide reliable, professional solutions for your commercial or residential needs. Whether you need routine maintenance, repairs, or new installations, it's essential to hire an experienced electrical contractor you can trust. We'll explore the services offered by qualified electricians in the Hackensack area and how they can meet your electrical needs.
1. Wide electrical service
From residential to commercial projects, a licensed electrician near you can handle a wide variety of electrical services. They have the expertise and knowledge to ensure safe and efficient installation, repair, and maintenance. Whether you need to upgrade wiring, install lighting, inspect electrical panels, or repair electrical circuits, these professionals can provide reliable solutions tailored to your specific needs. your.
2.  Residential and commercial expertise
Licensed electricians are adept at servicing both residential and commercial customers. They understand the unique requirements of each environment and can provide tailored custom electrical services. Whether you are a homeowner in need of rewiring or a business owner requiring electrical system design and installation, these professionals have the expertise to handle the job efficiently and effectively.
3.  24×7 Emergency electrical service
Electrical emergencies can happen unexpectedly and access to trusted emergency electricians is essential. Licensed electricians in Hackensack, NJ provide quick and efficient emergency services to address unforeseen electrical problems. Whether it's a power outage, faulty wiring, or any other electrical emergency, these professionals are equipped to handle the situation quickly and safely.
4.  Trusted Construction Electricians for Projects in Hackensack, NJ
When undertaking construction projects in Hackensack, NJ, having a reliable construction electrician on board is essential. These trained professionals specialize in electrical installations for new construction, renovation, and remodeling projects. From planning and designing electrical systems to performing installations according to local building regulations, construction electricians ensure that your project's electrical infrastructure is safe, efficient, and reliable. They work closely with contractors, architects, and project managers to seamlessly integrate electrical systems into the construction process.
Conclusion
When it comes to electrical services in Hackensack, NJ, it is essential to hire a licensed electrician with the expertise to provide reliable solutions for your commercial or residential needs. https://ytelectrical.com/  is a trusted website where you can find licensed electricians near you who provide comprehensive electrical services, including routine maintenance, repairs, installation, and emergency support. By choosing a licensed electrician, you can ensure the safety, efficiency, and compliance of your electrical system.